Royal Marines FA Latest News Section
For Royal Marines AFC South West Peninsula Premier League latest news click here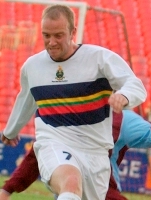 London Banks 0 Royal Marines 1
Thursday 25th Nov 2010 at Kent County Cricket ground Beckenham London
LCpl Dan Boere grabbed an 88th minute winner against a strong London Banks team. The game looked destined for a 0-0 result until Boere scored a stunning 30 yarder into the far corner of the net to send the Royal Marines players & staff into raptures of delight.
---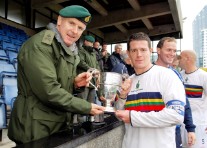 Inter Commands 2010 Report
Click here to read the Inter Commands 2010 winning match report
---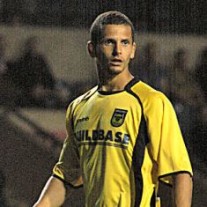 Royal Marines retain the Inter Commands
Wednesday 29th Sept 2010 at HMS Temeraire Portsmouth
The Royal Marines retained the Inter Commands when beating Naval Air Command 4-0, Plymouth Command 8-1 & Portsmouth Command 2-1 in the Final. Former Aston Villa striker Michael Husbands (pictured left) & former Coventry City midfielder Lee Hildreth scored the goals as the Bootnecks came from behind to win 2-1.
Full report and pictures coming soon.
Click here to see the team line ups from all three games
---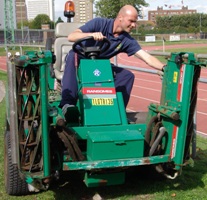 Exmouth Town v Royal Marines
1915 KO at Exmouth Town on Thursday 16th Sept 2010
3 years ago Former Royal Marines Sgt Jason Margrett (pictured left) was assistant manager to Shaun Foster at the Royal Marines FA but on Thursday night they come up against each other when newly appointed Exmouth Town manager Jason Margrett comes up against his old foes the Royal Marines.
---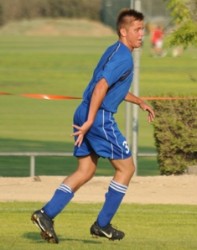 Iain Syme aims to pull on the Corps shirt again
Story added Saturday 28th August 2010
45Cdo's Iain Syme aims to pull on a Corps shirt again 2 years after being struck by a blast in Afghanistan.
read the full story here. Iain Syme's road to recovery
---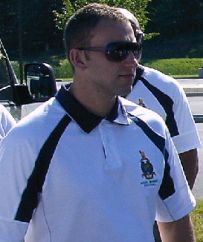 Taunton Town 1 Royal Marines 2
Armed Forces Charity Day in support of Help for Heroes
Saturday 4th July 1520 kick off at Taunton Town
The Royal Marines team put in one of their best performances in front of a large crowd when beating Taunton Town 2-1. 42Cdo's Mne Scott Sampson marked his Corps debut with the opening goal & FPGRM's Mne Chris Tunstall (pictured left) crowned a man of the match performance with the RM's second goal.
Taunton Town v Royal Marines match report
---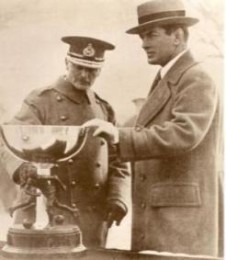 CTCRM retain the Tunney Cup
Sunday 11th - Thursday 15th July 2010
CTCRM retained the Tunney Cup this year on home soil after coming from 3-0 down to beat 45Cdo RM 5-4 after extra time with Mne Mikey Husbands scoring a hatrick against the unit he left only 1 month ago.
Cdo Log Regt beat 42Cdo RM 4-3 in the plate competition and the Laurels beat the Globes 5-4 in the annual Vets game.
---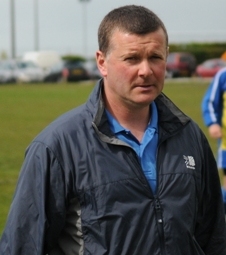 Assistant Manager steps down
24th June 2010
Assistant Manager CSgt Ian Clark (pictured left) has left the Royal Marines FA after 2 years to pursue a career in Civilian street after completing his 22 years service. Known affectionately by the players as Nobby 45 he was instrumental in helping the Corps team lift the Inter Commands, Falklands Cup & Cyprus Cup in 2009. The RMFA wish Nobby all the best in Civvy street & publicly thank him for his efforts & endless long journey's from Arbroath to CTCRM & back by car.
Nobby will be replaced by WO2 Shaun Welburn who is currently serving at CHF Yeovil.
---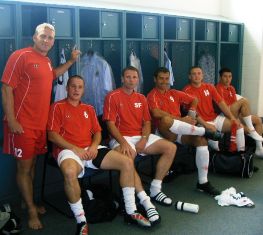 Mixed fortunes on RMFA's tour to USA
8th June - 20th June 2010 USA Tour
The RMFA team played their first tour match against the USMC in Washington DC on the 10th June and the game proved a tough encounter with the Corps team coming out on top 5-4. RMFA goal scorers were Mne Mikey Husbands 2 (45Cdo) , CSgt Richie Hope 2 (CTCRM) & Mne Christian Brooks-Courtney (45Cdo). In the second match we travelled to Virginia beach to play against Hampton Road Piranhas. This game proved to be another tough encounter & we were without the injured duo of Mne Mikey Husbands & LCpl Anthony Newton (Cdo Log Regt), despite battling well & Christian Brooks-Courtney hitting the bar we eventually went down 2 goals to nil against a very slick Hampton Road team.
---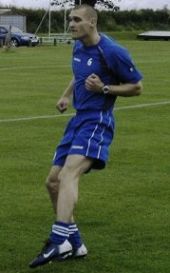 Royal Marines FA 8 D & S Fire Service 0
Tuesday 18th May 2010 at Endurance Park CTCRM
45Cdo's Mne Michael Sheldon (left) hit a brace has the Royal Marines thrashed Devon & Somerset Fire Service 8-0 at Endurance Park CTCRM. 45Cdo's debutant Mne Michael Husbands also hit a brace and fellow 45Cdo team mate Mne Ian Danby also got on the score sheet. Mne Dan Fox of the Commando Display team opened the scoring to start the rout. Other scorers were 42Cdo's Stuart Morgan & UKLFcsg's Cpl Wayne Shailer.
---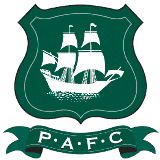 RMFA v Plymouth Academy Cancelled
Sunday 2nd May 2010
The Fixture planned for Thursday 13th May at Endurance Park CTCRM has been Cancelled
---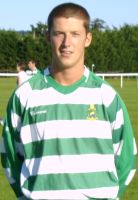 Royal Marines FA win double header
April 2010
The RMFA won thier double header games against Lloyds of London & the Ben Nowak memorial game 3-0 & 7-0 respectively. Sgt Rich Harley & Mnes Chris Tunstall & Mark Connet were on target against Lloyds of London with goal keeper Cpl Graeme Murphy saving a penalty.
The game against the Ben Nowak Xl was a great success for the charity set up in Bens name, A Sporting chance a friend like Ben. Scorers for that game were Cpl Shaun Foster, LCpl David Carns 2, Mne Martin Finneron (left), Mne Chris Tunstall, Mne Stu Morgan & Mne Christian Courtney. Cpl Graeme Murphy saved 3 penalties in a row after it was retaken twice.
---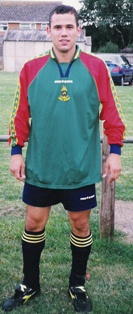 RMFA to play game in Memory of the late Corps footballing legend Cpl Ben Nowak.
Royal Marines FA have got a double header at the end of March, first we will play against London Banks on Thursday 25th March at CTCRM KO at 1630, then on Saturday 27th March we will play against a Ben Nowak Xl in a memorial game for former Corps player Cpl Ben Nowak who was killed in Iraq in 2006. The game will be played at Everton FC training ground kicking off at 1400hrs. and it is hoped lots of money will be raised for the charity set up in Bens name, A friend like Ben - Nowak's sporting chance
The late Cpl Ben Nowak (pictured left) on his RMFA debut July 2000
They shall not grow old, as we that are left grow old:
Age shall not weary them, nor the years condemn.
At the going down of the sun and in the morning
We will remember them.
RIP Ben
---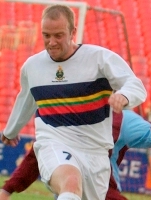 RMFA 0 Yeovil Town U18's 1
Wednesday 10th Feb 2010 at Endurance Park CTCRM
The Corps team put up a good display against Yeovil Town U18's but were un-done by a solitary goal in the second half. The Yeovil Town manager picked out centre midfielders Mne's Dan Boere (left) & Mark Conett for special praise. RMFA Goalkeepers Cpl Graham Murphy (1st half) & Mne James Ashford-Brown (2nd Half) put in solid displays.
---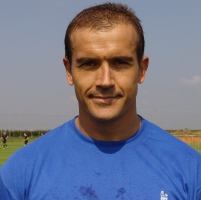 RMFA v Yeovil Town U18's
Story added Sunday 24th January 2010
The RMFA's long awaited next game is on Wednesday 10th February 2010 at Endurance Park CTCRM Kick off 1400 against Yeovil Town U18's. Prolific Striker Richie Hope (left) will be hoping to improve on his impressive strike rate of 84 goals in 102 games.
---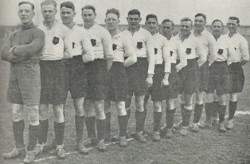 **New** RMFA Gallery
Tuesday 29th December 2009
Click the picture to visit the Gallery
---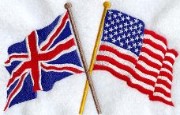 RMFA to tour Washington & New York in 2010
The Royal Marines Football team are intending to tour the USA in June 2010. The tour is being organised by Capt Stevie Marr and the team will be based at Quantico military base which is home to the USMC officer training school. It is hoped we will be playing fixtures in Washington & New York.
---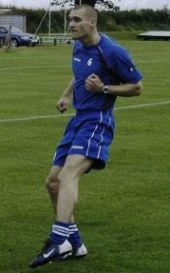 Royal Marines FA win the RN Inter Commands 2009
Wednesday 30th Sept 2009 In the first group game the RMFA beat the Royal Navy U23's 5-1 with skipper Cpl Si Bochenski scoring 4 & CSgt Richie Hope scoring the other. In the other group game we beat 2008 winners Scotland 4-3 with the goals coming from Mne Stu Morgan, Mne Shea Saunders, Mne Davie Carns & LCpl Gaz McGonnell who scored a last second winner.
In the final we beat Portsmouth 3-2 After Extra Time with goals coming from Mne Shea Saunders, Cpl Si Bochenski (pen) and Mne Michael Sheldon (pictured) who scored the clinching goal in extra time.
---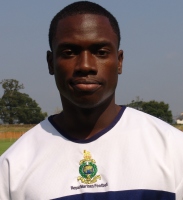 Falklands Cup

Thurs 17th Sept 2009
Parachute Regiment 0 Royal Marines 3. Skipper Cpl Simon Bochenski, LCpl Gaz McGonnell & LCpl Kunle Atiba (Pictured left) scored the goals in the Paras own back yard in front of 600 Para's fans to lift the Falklands cup. The potentially vociferous crowd were kept quiet as the Royal Marine rearguard kept a clean sheet and Si Bochenski silenced the crowd midway through the first half with a strike from an acute angle. Official Man of the Match LCpl Gaz McGonnell & LCpl Kunle Atiba scored late goals to secure a 3-0 win.
---
Tuesday 1st Sept 2009 Royal Marines 11 Avon & Somerset Police 1
Cpl Simon Bochenski hit six goals as the Royal Marines thrashed A & S Police 11-1 at Endurance Park CTCRM. Mne Dan Boere 2, Mne Stu Morgan 2 & Mne Martin Finneron scored the other goals. This game is the first of two Inter Commands build up games. We play the Parachute Regt next on Sept 17th.
---
23rd - 30th July 2009 Royal Marines FA retain the Cyprus Cup
The Royal Marines FA started the defence of the Cyprus with a 2-1 defeat to RAF Cyprus at RAF Akrotiri with the Royal Marines goal coming from LCpl Gaz McGonnell. In the second warm up game game we beat Army Cyprus 3-0 at Dhekelia Garrison with goals from CSgt Richie Hope, LCpls Dan Boere & Kunle Atiba. In the Cyprus Cup final played at Dhekelia Garrison the Royal Marines beat Combined Services Cyprus 6-2 with the goals coming from CSgt Richie Hope 2, Mne Stu Morgan 2, Lcpl Kunle Atiba 1 and 1 own goal.