Royal Marines Football Association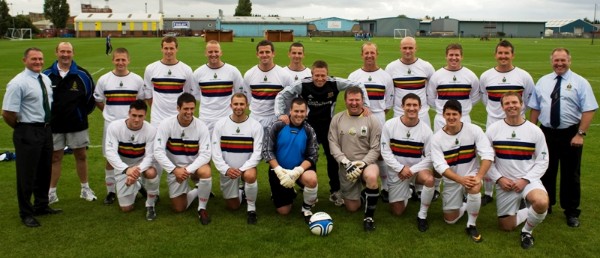 Hull City U18s 5 Royal Marines 1 (Mark Connet)
July 23rd 2011 at Ideal Standard Hull
Player Manager Shaun Foster captained the side in his last game for the Corps before finaly hanging up his boots after first making his debut back in 1989 against London Banks. He played 113 games scoring 15 goals and has won the Inter Services 3 times, Inter Commands 9 times, the Tunney Cup 8 times and the Navy Cup 2 times.
The game itself was played on a perfect pitch at Hull City's school of excellence training ground at Ideal Standard Hull on a very warm & sunny thursday afternoon. Billy Russels youthful Hull City side were very well drilled and extremely fit with our only weapon being our superior strength. We were missing lots of players due to operations in afghanistan but we still managed to put out a decent starting Xl. We played some good possession football but created very little in the final third. Hull City however enjoyed lots of possession themselves and had better look in the final third creating some good chances. Hull City made their chances count and raced into a 3-0 half time lead.
In the second half the Corps team were dealt a blow when Sam Woodin, Dan Boere & Scott Sampson all had to leave the field of play due to injuries. this resulted in several changes which saw goal keeper Robbie Buglass having to play centre half & assistant manager Shaun Welburn & Kitman Al Small both take up playing roles. Hull City helped themselves to two further goals but the Corps team started to create chances of their own and Sam Logan nearly scored with a far post looping header. Mark Connet eventually broke the Hull City reaguard when Shaun Welburn teed him up for a 30 yard rocket which beat the keeper all ends up to make the final scoreline Hull City 5 RMFA 1.