Royal Marines Football Vets Reunion match 2009
Thursday 16th July 1345 Kick Off at Endurance Park CTCRM
Match report by Shaun Foster
After months in the planning I was eagerly awaiting playing in this prestigious fixture with past & present Corps & Tunney Cup football legends, however I had not envisaged getting into another Tunney Cup final with CTCRM so instead of putting my weary old legs up in preparation for the final against FPGRM I instead found myself in the dugout has the manager of the Laurels team which was Captained by Vets debutant Brian Faint. In the Globes dugout was the injured Stevie Marr who took on the roll of Globes manager and his Capt was the RMFA President and Vets regular Major General Garry Robison. The 1995 Inter Command winning goal keeper Dutchy Holland also made his Vets debut along with fellow debutants former RMFA Manager Mal Fairbrother, Scotty Mills, Yogi Neuth, Iain Rankin, Rob Tweed, Austin Woodin & 2009 Corps player of the year Richie Hope. Another first for this fixture was the father & son involvement of Al Tweed & his son Rob both lining up in the Laurels team.
| | | | | |
| --- | --- | --- | --- | --- |
| | | | | |
| Mal Fairbrother | | Rob & Alan Tweed | | Phil Shuttleworth |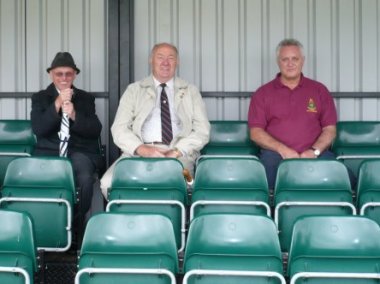 2009 RMFA Vets game
After a brief warm up larruping the ball at the goal keepers and some of the players smoking their final pre match woodbines the game finally got under way 15 minutes early in front of a RMFA chairman Clive Hunter (pictured left in the middle with Refereeing assessor Jumper Collins & Phil Shuttleworth during the Plate final) & former Corps left back Rog Banister & 7 times Tunney Cup winner Dickie Stokes. Mal Fairbrother may only have played the opening 15 minutes but he was at the hub of the action for the Globes with crunching tackles firstly on Steve Waller then he smashed Iain Rankin in a 50-50 and although he won that one he spent the next five minutes blowing out of his rather large rear end and sucking in the air as if it was going to run out much to the amusement of his Plymouth fan club in the stands. The Laurels were passing the ball with precision in early stages in particular one move which involved Magsy & Rob Tweed before Phil Shuttleworth released Austin Woodin down the right flank but the cross was cut out by Mal. The Globes however had the first real chance when Ian Pomeroy fed Dave Somerton-Rees who in turn fed 6 time Tunney Cup winner George Bolton & his cross was met by Garry Robison who shot against the post with goal keeper Dondo Pearson stranded and left wondering what had happened to his centre halves of Magsy & Iain Rankin.
After spending the year recovering from several major operations Phil Shuttleworth did well to turn up to the Vets event never mind play at right back but that's Shutts character through & through (Good effort Phil). Mick Heath launched a long high ball up field which striker George Bolton pulled out the air with tremendous simplicity. George Kent released Dave S-R who passed to George Bolton and he slotted past Dondo only for the linesman to flag for offside, good job he did or else Magsy would have chinned him. George Kent was next to deliver a cross after collecting a pass from the ever green Sammy Spall but his cross was headed over his own bar by Iain Rankin. Magsy fouled Mal Fairbrother after being fooled by Mals turn of pace and Garry Robison's resulting free kick went straight at the unflappable Dondo Pearson. Don Major then came on for Mal who had enjoyed his cameo role 13 years after collecting his one & only Corps cap against the Royal Artillery. Don's first involvement was to follow in the slipstream of Austin Woodin has he raced down the right flank leaving Don in his wake before delivering a cross into the box which Mick Heath gathered well. George Bolton bamboozled a Laurels defender with a drag back before releasing Sammy Spall & his cross found 59 year old spring chicken George Kent who saw his header go straight at Dondo.
| | | | | |
| --- | --- | --- | --- | --- |
| | | | | |
| Laurels Skipper Brian Faint | | Jim "Brum" Daly | | Austin Woodin |
The game got a bit scrappy for a spell when Rob Tweed fouled Andy Mac then Brum Daly chopped down Sammy Spall on the bar line but Bob Fardoe saved the resulting Sammy Spall free kick. Austin Woodin re-entered the game in place of the hanging out Rob Tweed. Goal 2-1 Laurels (Martin Sharpe), Dutchy Holland pulled off 2 world class saves from Iain Rankin then Jimmy Lyons but from the resulting Martin Sharpe corner he flapped and waived his arms about as if he was calling in a chopper and pushed the ball into his own net, and again if looks could kill then ten Globes players & Stevie Marr would be up for Dutchy's murder. Another Paul Collinson 50-50 this time with Martin Sharpe again resulted in, yes you guessed right, a Colly winner. Goal 2-2 (George Bolton), Garry Robison signalled to the bench to be replaced but before they had time to replace him with the returning BJ Farrimond the ball fell to him and he calmly put George Bolton through on goal and he rounded the advancing Bob Fardoe to once again even up the scores.Brian Faint (Left) quickly tried to restore the Laurels lead but his header was blocked by Ian Pomeroy and Dutchy Holland punched well clear from the resulting corner. Next came the miss of the match, Martin Sharpe crossed for Stevie Waller & he headed the ball downwards but it bounced over the bar with the goal at his mercy. Paul Curry then showed some neat foot work usually reserved for the dance floor has he dazzled Brian Faint leaving him for dead. Iain Rankin had a chance with a header and at the other end Richie Hope shot just wide with Austin Woodin putting him under pressure. George Bolton saw his shot at goal saved by Bob Fardoe. BJ Farrimond,s groin had packed up so goal keeper Mick Heath came back on as an out field player. Goal 3-2 Laurels (Jimmy Lyons) Jimmy Lyons scored his second & the Laurels third goal when he drilled the ball past the hapless Dutchy Holland. Al Tweed re-entered the game in place of Brum Daly and Rob Tweed also re-entered at the expense of Jimmy Lyons who was on a hat trick, sorry Jimmy but we would never have heard the last of it on the night out if you had got a hat trick.
Goal 4-2 Laurels (Martin Sharpe) The Laurels had a 3 on 2 break away with Iain Rankin, Scotty Mills & Martin Sharpe bearing down on Don Major & Andy Macfarlane and it was left to Martin Sharpe to score his second goal and slot the ball coolly past Dutchy Holland.
Brian Faint had the last notable kick of the game when he tried his luck from 30 yards out but it went wide.
Full Time Laurels 4 Globes 2.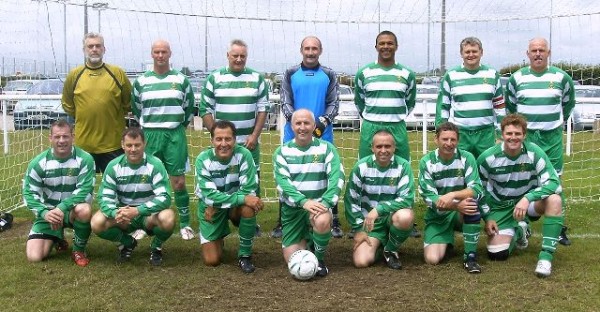 The Laurels 2009
Back Row L to R Bob Fardoe, Jase Margrett, Phil Shuttleworth, Dondo Pearson, Scotty Mills, Brian Faint, Austin Woodin.
Front Row L to R Rob Tweed, Iain Rankin, Martin Sharpe, Brum Daly, Jimmy Lyons, Al Tweed, Stevie Waller.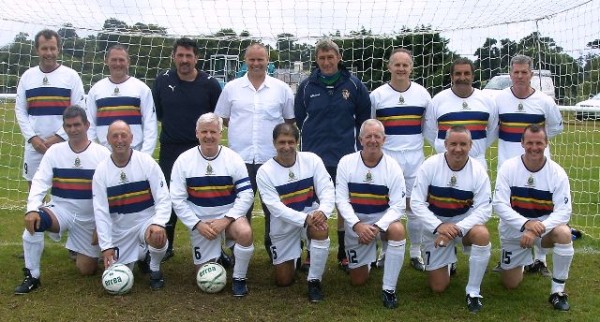 The Globes 2009
Back Row L to R George Bolton, Paul Collinson, Mick Heath, Steve Marr, Dutchy Holland, Dave Somerton-Rees, Mal Fairbrother, Paul Curry.
Front Row L to R BJ Farrimond, George Kent, Garry Robison, Sammy Spall, Don Major, Ian Pomeroy, Andy Macfarlane.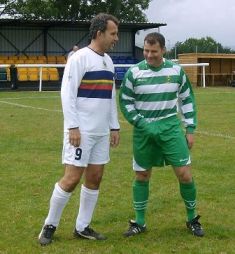 Legends
George Bolton asks Rangers fan Iain Rankin what are you doing wearing a Celtic kit ?