John Ellis Royal Marines Football 1958 - 1980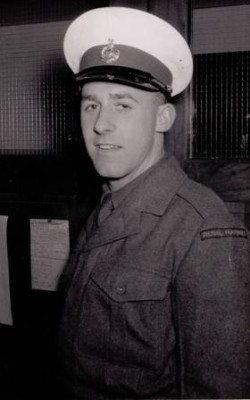 Recruit John Ellis 708 Squad 1958
It was November 1958 when John Ellis arrived at The Depot Deal, to join his squad 708. The walk from Deal station to the Depot was very much a walk into the unknown. In reflection, it was the best walk he ever had, of the many walks that were to follow. It was a walk that took John to a lifetime of unimaginable experiences and it still continuing to this day. His third day of being a Royal Marine recruit his squad played football in the sports afternoon activity. Half way through the game he switched fields to play for The Depot. QMSs Ken Ketcher was the team manager. John remembers playing with Ernie Plattchance and Bill Shakespeare .On the fifth day he was given a peak cap and an overcoat and put on a train from Deal to Portsmouth to play for the Royal Navy at Fratton Park to play against The FA. Amateur XI. On arrival he went to the dressing room; there was only one person there, John introduced himself as" Rct. Ellis Sir" I have been told to report here. It was Johnny Bickford who to this day has never let John forget. "he called him Sir" The Captain was Jimmy Coates who was a great player but not the friendliest character in town. It also introduced him to lifelong friends Jackie Freeman and Derek Godwin (pictured below)
| | | |
| --- | --- | --- |
| | | |
| Jackie Freeman | | Derek Godwin |
On completion of the game he returned to Deal but found out the hard way that the train stopped at Dover and he would need to walk back to Deal. John arrived back at the Depot at 4 am and tried to clean his gear for the parade. He did not have a clue how to clean and needless to say set the Guinness book of records for being on the flank. His squad mate Paul Ballingall an ex -guardsman took some pity and guided him but Johns trips to play for the Royal Marines, Nore Command and the Royal Navy was like a red rag to a bull for his squad instructors. The walks from Dover to Deal, thinking about the "flank" and extra drill in the drill shed with a sadist every day was not the most inspirational time. Ken Ketcher and Bill Sykes would quietly take him to one side and give him encouragement. They were never critical of their fellow instructors, understanding they had a job to do, but it was a relief for him knowing there were some human beings in the Royal Marines Within ten days of joining in 1958; He had an introduction to the Tunney Cup, always a great tournament. They lost 2-1 to CTCRM. John would later Skipper Depot RM Deal to success in 1964 (picture below)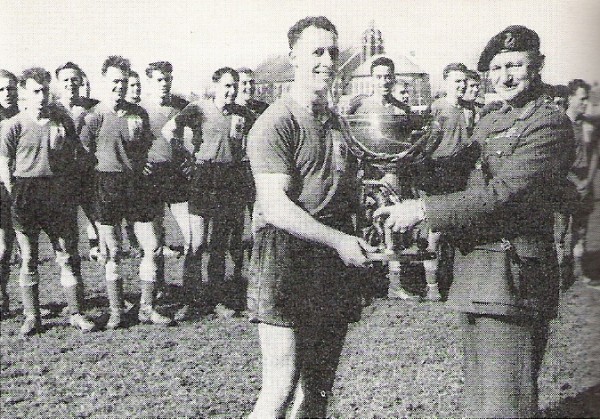 1964 Tunney Cup Winners Depot RM Deal
Depot RM Deal 4 beat 43Cdo RM 0
Major General Houghton Presents the Tunney Cup to Corporal John Ellis
The standard of football then was very good as many serving in the military were national service and this brought many young professionals onto the teams. The Royal Marines had a fair share of National Service personnel but the Army and RAF teams were all predominantly young professionals hoping to end their time in the military and return to professional football clubs. Throughout the British Empire, the British military were serving in countries worldwide and Football had an influence on local people in these countries and today as a result, we can see the development that has evolved World-wide due to the military football competitions overseas. British Ambassadors were continually approaching Commanding Offices to provide support to the local population. It was great for 'hearts and minds' and interaction with the local people.
The Royal Navy ships who visited so many small communities frequently played a football match as part of the official visit. Many Royal Marines played on these teams and although we have always been a small corps, our football prowess is something to be very proud of and our contribution to the growth of football world-wide far greater than many would imagine.
Recruit training and playing football two or three times a week was extremely demanding. John also had a good cricket background having been an understudy to Godfrey Evans, the Kent and England wicketkeeper. Captain Oakley and Colonel Gourley were the organizers of Corps and Navy cricket. Many cricket games were played at Deal. Colonel Vivien Dunn, Principal Director of Music, loved his cricket but was frequently called away during a game to conduct rehearsals. Rct Ellis was his sub, which again, did little to help endear him to his squad instructors.
On completion of training he had got used to the challenges and was awarded the Commando Medal for his squad. He joined 45 Commando RM in 1960 in Malta with deployments to North Africa and Aden. Gone were the lush green fields, for now it was the rock hard fields of Malta and the sand fields of Aden, a very different football and life experience.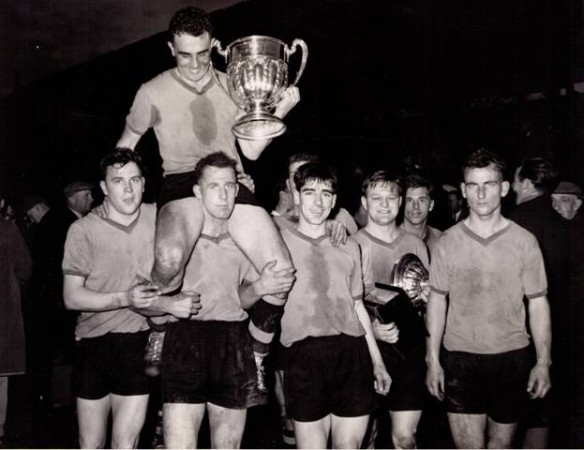 14th Dec 1961 ITCRM beat HMS Vernon 4-2 AET in the Navy Cup Final
ITCRM goal scorers were Mne Rook, Jones, Mne Quinn, Mne Holly.
Left to Right Mne Quinn, Sgt Quinn (with the cup), LCpl Ellis, Mne Malhan, Cpl Swain (hidden), Mne Rook, Mne Holly.
In 1965 he was privileged to become a physical training instructor and this was an insight into training methodology, teaching sports and learning how to be an instructor. The Royal Marine Physical Training branch is inundated with exceptional talent and characters. It is the perfect environment for an individual to develop and practice organizational, management and performance skills and whilst travelling the world as a football coach and businessman, it has amazed him how many people have asked him, "Where did you learn and develop your instructional abilities".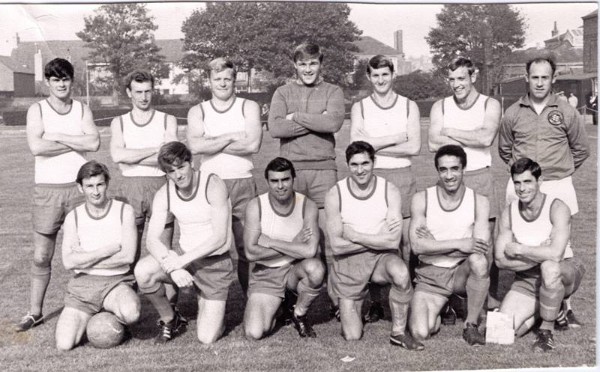 PT Branch Centenary Football Team
Back row L to R Wilson, Turnbull, Higgins, Russell, Houston, Clark, Ellis (Coach).
Front row L to R Best, Scott, TBC, Harris, Nicholson, Bickford.
John will always be very thankful to The Corps and the great personalities who guided him. He flew to South Africa 5 years ago to personally thank his Staff PT Instructor, QMS Ken Wilson for his support. He also travelled to London to thank Captain John B Brown RM (pictured below) who was the Corps Football Chairman and the Secretary of RNFA. John says "I know there are many more I could add to the list".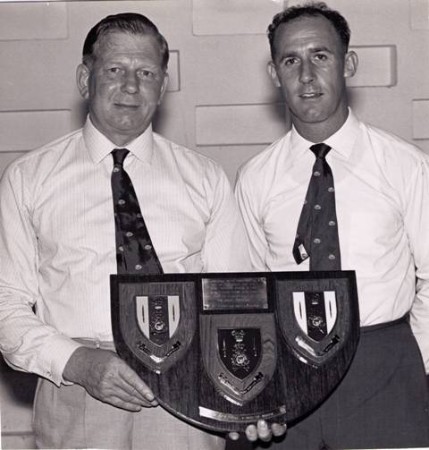 Captain John Brown (left) & Coach John Ellis
Presentation to John Brown for his services to football
FA Council Member - Secretary Combined Services FA - Secretary RNFA - Chairman Royal Marines FA - Chairman RNFA Youth Program - Class 1 Referee
Bill Sykes was the Corps Football Coach in 1965 and a very knowledgeable SPTI who was also a very good player. John had played Corps, Navy and Combined Services football for several years and the position of Corps Coach was going to become available. He knew at his age, he was not a contender to be considered. National Service had ended and recruiting in the Corps was down and therefore the supply of good players was going to become a factor. John had designed a five year plan for Corps football development and submitted it to the RMFA Chairman, Major Hodges. Time passed and he heard of several names who were interviewed but he was not included. It therefore came as a real surprise for John to meet with Major Rod Tuck IPTRM and Olympic skiing fame to be told that he had been appointed the new Royal Marine Corps Football Coach. It was the team he had been playing on which made him apprehensive but making Jackie Freeman his Captain was the master stroke. Jack was an exceptional player and excellent leader. The Corps team went from strength to strength. Many of the established players he had replaced with younger legs. It was a gamble but the players united well and the RMFA had a very successful first year under John's coaching guidance in 1966.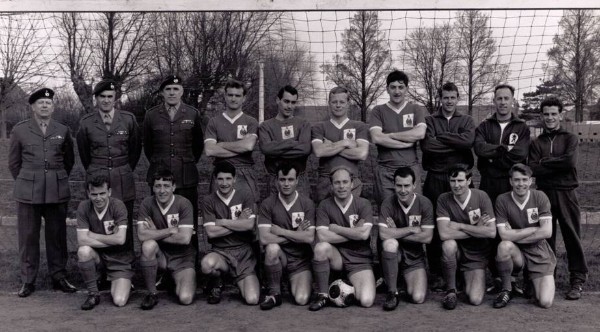 1966 Royal Marines Football Team
Back row L to R Capt JB Brown (Chairman), Lt V Henry, Capt R Woodruff, Demery, McKenna, Tony Higgins, Clithloe, Lenny Anderson, John Ellis (Coach), Scott (Trainer)
Front row L to R Riley, Hunt, Lindsay, Towse, Jackie Freeman (Capt), Wassell, Taylor, Barlow
It was a hectic period. The average age of the Corps team was 30 and it really was a time to bring in younger players but as always, when you bring in younger players they need time to adjust and gain practical experience. It would be ideal to discuss each player and their abilities but there were so many. The photographs John has provided will show the players of that time who gave great service to the Corps Team.
A year later in 1967 and John is in front of Major Tuck again. "The Royal Navy want you as their coach, can you do both teams"? He thought, I could, but it would need me moving from Deal to Eastney as the RNFA was located in the Portsmouth Dockyard next to HMS Victory. Lieut.Commander John Ennis would be his Navy boss. In his plan to the RMFA, he indicated the need to develop youth players and to overcome the loss of national service players. Lieut.Commander Dennis Probee was a football visionary and he had been a very good Navy player. His vision was to start a Navy team in Portsmouth to play in the Hampshire leagues. This team would also be helpful to the RMFA for our players serving in the Portsmouth area. In addition, John decided to push ahead and form a Royal Navy Youth Team. The military had now started to recruit at 16 years of age rather than 18 years.

1974 The 1st Royal Navy Youth Squad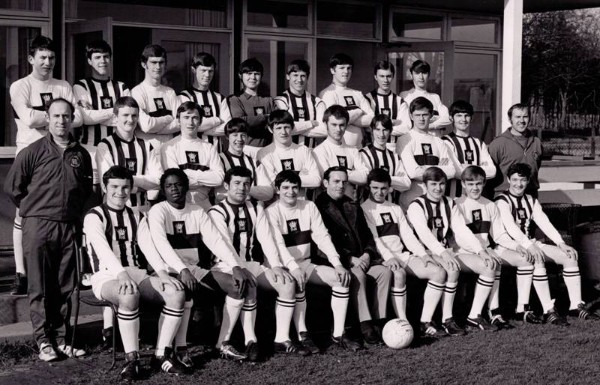 1974 The 1st Royal Navy Youth Team
Back row L to R all TBC
Centre row L to R John Ellis (Manager), rest TBC
Front row L to R All TBC
In 1967 John became the first military football coach to be awarded the Football Association Fullbadge License for Coaching.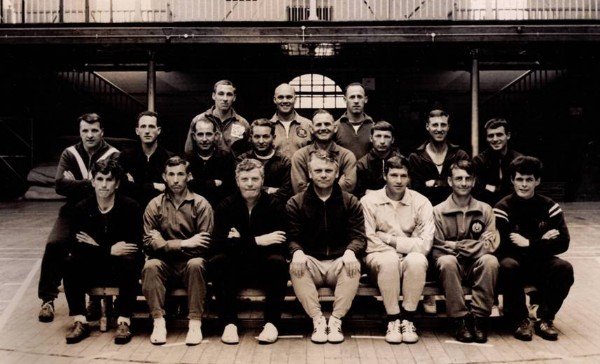 FA Association coaching Cse No 7
(Qualifying) A.S.P.T May - June 1967
Rear row L to R Bob McCombie, Bob Mobbs, John Ellis.
Middle row l to R John Sommers, Alan Duxbury, Arnold Reed, Tony Sadler, Dick Elliot, John Jennings, Jim Coates, Dave Blandford.
Front row L to R Jack Blackledge, Bill Phips, George Curtis, Alan Wade, Tony Waiters, Stan Cooper, Ricky Beresford.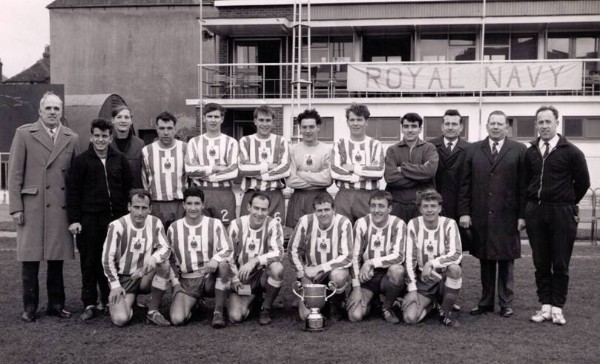 1968 Inter Commands Winners Royal Marines
Back row L to R Capt Woodruff , Johnny Scott, Archie Houston, George Kirtley, Buck Taylor, Roger Prescott, TBC, Dusty Miller, Geordie Malhan, Williams, Capt John Brown, John Ellis (coach).
Front row L to R Josh Holly, Stuart Lindsay, Richie Wassell, Lenny Anderson, Davey Hunt, Curly Barlow
In 1969 he was sent back to the Far East to 42 Commando RM. He had been there previously in 1962 and got to know Mr. Pop Ling Liam (pictured below), the Secretary of The Singapore Football Association. He was the godfather of all football in the Far East. The level of local football was very high and was predominantly played by the British military. Pop wanted to start developing Singaporean and Malayan football teams. Hong Kong and Japan had already got professional leagues but no youth development.
The communists were a threat to the area and teams from Russia and the Eastern bloc countries were always sending Football teams and offering football services to Pop. He was shrewd enough to understand that their teaching methodology was light years behind that of the British style. John was recruited at times, in conjunction with his Commando duties, to assist in designing a ten year development plan for football to include youth through the professional level.
The second phase was to take the model to Thailand, Indonesia and Japan to encourage these countries to adopt Pop's vision to form an Asian Association. The British Far East Combined Services Teams were used to visiting and playing matches against these countries. In addition, the Football Association sent over representative teams to begin the process of promoting football development. The Royal Navy Wanderers was formed in Singapore to participate in an eight team professional league. The Royal Navy ended up winning the inaugural season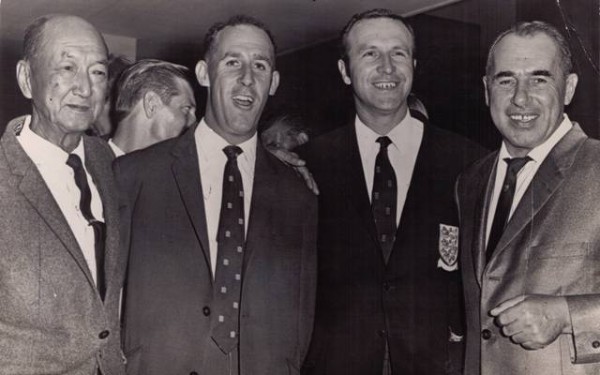 Left to Right, Pop Ling Liam Secretary of the Singapore Football Association, John Ellis RM & RN Coach, Jimmy Armfield Blackpool & England Captain who brought over an England team to play in Singapore, Lozan Kotzev National Coach of Bulgaria who brought teams over from the communist regime
The first Football Association License Coaching course was held in Singapore (pictured below). The candidates were selected from the different Asian countries to start coaching in the Far East. John was privileged to be appointed the Director of this course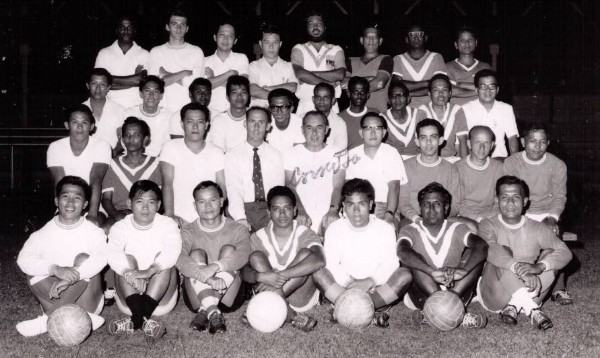 John Ellis (centre wearing Tie) was appointed Director of the first Singapore Football Association Coaching Course
In 1971, John was offered an appointment in New Zealand sponsored by Coke-a-Cola. He approached Colonel Jukes his Commanding Officer to get advice and was on an aircraft two weeks later back to England to resume his RMFA and RN coaching appointments.
On his return, in addition to coaching the Royal Marines and Royal Navy teams, The FA appointed him to the staff at Lillieshall and Bisham Abbey coaching courses with Charles Hughes As part of this appointment, He also was sent to teacher training colleges to conduct the new teacher's coaching certificate that Allen Wade the Director of Coaching had introduced. Many education officers joined the Royal Navy from John's contacts with them on coaching courses at the colleges and universities
In 1974, He received approval from the Combined Services FA to organize youth football. We had our first weekends at HMS Collingwood. Lieut. John Dobson was the Chairman and Derek Godwin, a legendary Navy player, joined me to form the coaching staff. The RN Youth had numerous Royal Marines in the team (John O'Connell) was one who was exceptional for his age. This was a wonderful program to work with.
The English Schools had an annual training camp each year in Nottingham University. Many of the top schoolboy players were selected by their counties and sent to attend this camp. It was a two- week program and John was privileged to be appointed The Director of this program in 1974 – 1975. This was good public relations for the military to be involved.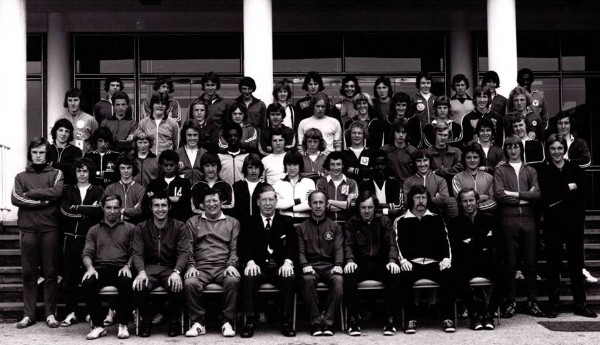 1974 England Schools FA at Nottingham University.
John Ellis 5th from the left front row.
The British Ambassador in Trinidad and Tobago had requested from the British Government several programs which were intended primarily to keep British public relations strong in Trinidad. At times when RN ships detachments went ashore, the local communities were not happy with what often occurred. Complaints often ended up with the British Ambassador and he was required to calm the waters. The Trinidad and Tobago FA had requested a Football Association Coaching Course and were subsequently granted permission. HMS Collingwood and RM Eastney were the two venues provided for the group to do their FA Preliminary Course. On completion, I flew with them back to Trinidad and then on to the USA as guests of Howard University. We used their training facilities and started preparation for the Olympic Games.
The Royal Marine Teams were playing well and we were winning more Inter- Command competitions than in years past. The young players who were initially brought into the squad had really developed and many played for the Corps, The Royal Navy and Combines Services.
Sgt Jimmy Foy was my replacement for the Corps Team and REA Derek Godwin the Royal Navy.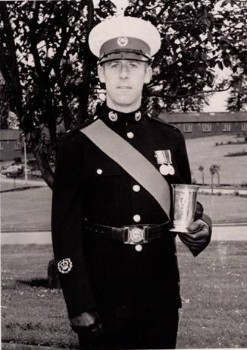 1975 Bristow Trophy Winners
WO2 John Ellis
It was 1976 and time for John to move on. He was appointed Sgt Major of NCOTW at CTCRM.
Then in 1977, He was appointed WO1 AIPTRM (see picture below). During the next four years, He assisted Jimmy Foy with the Royal Navy Youth team by working with them primarily at weekends at HMS Mercury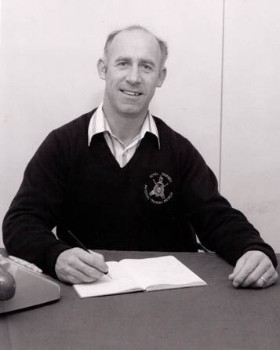 1977 WO1 John Ellis AIPTRM
He could have continued to remain in the Corps but he always believed it was important to know when to get out and give others an opportunity. He had football options as the reserve team coach at Tottenham Hotspurs. He was also offered coaching contracts in Australia, Saudi Arabia, Oman and the USA. He knew he could have stayed in Britain and been successful in coaching the game at the higher levels but his time in other countries had indicated to him more open minds to the development of and the enthusiasm for football.
Saudi Arabia was financially excellent but no place to take your daughter or wife. Australia at that time was very ethnic and not really interested in youth development. On his EVT course he studied small-business ownership and for my final paper wrote a business portfolio for his future challenge, Soccer – Academy
In 1980 when he first arrived in the USA football (soccer) was a very minor sport with only 2 million registered players. Today in 2011, it is 50 million registered players and the growth has been phenomenal. Being a part of this development has been interesting and challenging.
In 1982, the North American Soccer League (NASL) along with the New York Cosmos went into bankruptcy. The NASL was primarily organized by former British football stars and mediocre management. They did nothing for the USA soccer player. It has taken years to reform the current professional league, Major League Soccer and to develop nationally an educationally based soccer program designed specifically for youth teams
There were many young American players that wanted soccer to be their lifelong dream and had felt badly let down. John formed Soccer-Academy, one of the first professional soccer businesses established in the USA. We trained the young American players to be coaches and formed adult programs for them to play. Today in America, many Head Coaches in Universities and Colleges started their careers in Soccer Academy. John's training in the Royal Marines was proving invaluable for him to design and provide the best in a 'teaching academy' similar to the (The PT Wing RM).
In 1982 many new clubs he worked with had 250 – 350 players. Today, many of these clubs have
3000 – 4000 players in the club. Soccer – Academy continues to provide a management design and a training design for both players and coaches.
He qualified as a USSF 'A" License coach in 1983. Having a Football Association Advanced Full Badge was helpful but Carl Heinz Heddergott, a German national coach, had worked with US soccer coaches who were also educationists and he learnt the importance of understanding child development and how it applies to soccer. John became involved in the design and writing of the USSF National Youth License with Dr. Tom Fleck from Florida, a specialist in child development who was instrumental in developing the first licensed course designed to train coaches specifically for youth players and teams.
John's teams were continuing to do well and this was important to try and re-establish the British image after the NASL fiasco. His successes were:
1982 Winner U19 Boys National Championship 'The McGuire Cup'
1984 Winner U19 Girls National Championship
1986 – 89 and 90 Winner Women's National Championship – Soccer Academy United
In 1984 it became apparent that in Virginia and many States in America you cannot play outdoors for many months due to inclement weather. John had these young coaches who needed year round work and he decided to design and build an indoor soccer arena. Having been involved with the new gymnasium built at CTCRM he had the ideas but not the money. He gave 325 presentations and one person decided to be his financial investor. The first indoor soccer arena Sports-Network was built in 1986 in Manassas Virginia. He could not find an American person with the experience to Direct and Develop the center. He decided to contact Bill Turnbull, former Corps and Navy player, also a SPTI. He was John's selected man and he agreed to come and join him in America and did a fantastic job promoting indoor soccer programs.
In 1999 he was appointed as the Assistant Coach to the US Women's National Team. One of the coaches we trained at Soccer Academy Inc. was April Heinrichs who was appointed National Team Coach. April was the first female to be appointed Women's National Soccer Coach in the USA. She invited John to be her mentor and he was appointed by US Soccer. Some of the team successes: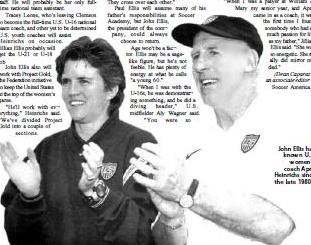 US Womens National Coach April Heinrichs & her Assistant Coach John Ellis
Click here for full article external site
1999 Winners CONCACAF - Gold Medal
2000 Olympic Games Sydney- Silver Medal
2000 Germany Gold Medal
2001 Winners CONCACAF Gold Medal
Johns Personal Achievements
2004 Inducted National Soccer Coaches of America 'Lifetime Award'
2007 Inducted Soccer Hall of Fame – Virginia
2010 Emeritus Citation Services to Futbol Puerto Rico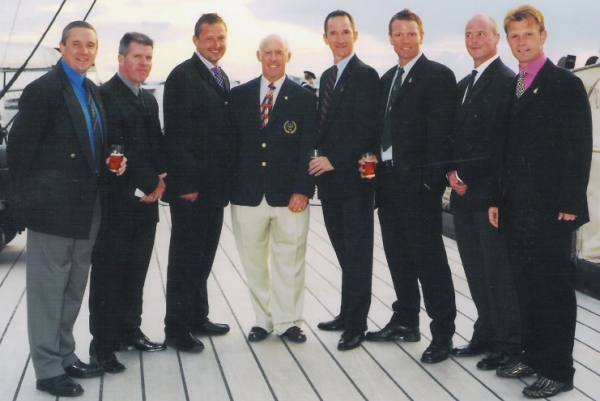 2004 Royal Navy FA Centenary Dinner On Board HMS Warrior
The Royal Marine Contingent Left to Right Ian Pomeroy (RMFA General Manager), Paul Curry (RMFA Manager 1996 to 1999), Ian Michelson (RMFA Secretary), John Ellis (RMFA & RNFA Coach 1965), Terry Price (RMFA Assistant Chairman), Shaun Foster (RMFA Manager 1999 to present 2011), Jason Margrett (RMFA Assistant Manager), Russ Wilson (RMFA Manager 1994 to 1996)
In 2006 John Retired as President of Soccer Academy Inc. and now lives in a retirement area just outside Orlando called The Villages with his wife Margaret.
Paul Ellis, his son, a former member of 272 Squad had served 8 years in the Royal Marines and decided to join him in America after the Falklands campaign. He qualified as a USSF 'A' license Coach and worked with Soccer Academy for some ten years before becoming the President of Soccer Academy Inc. - USA. Paul is married to Jennifer and they have twins Brad and Courtney and live in Manassas, Virginia. Website http://www.soccer-academy.com